Land Projects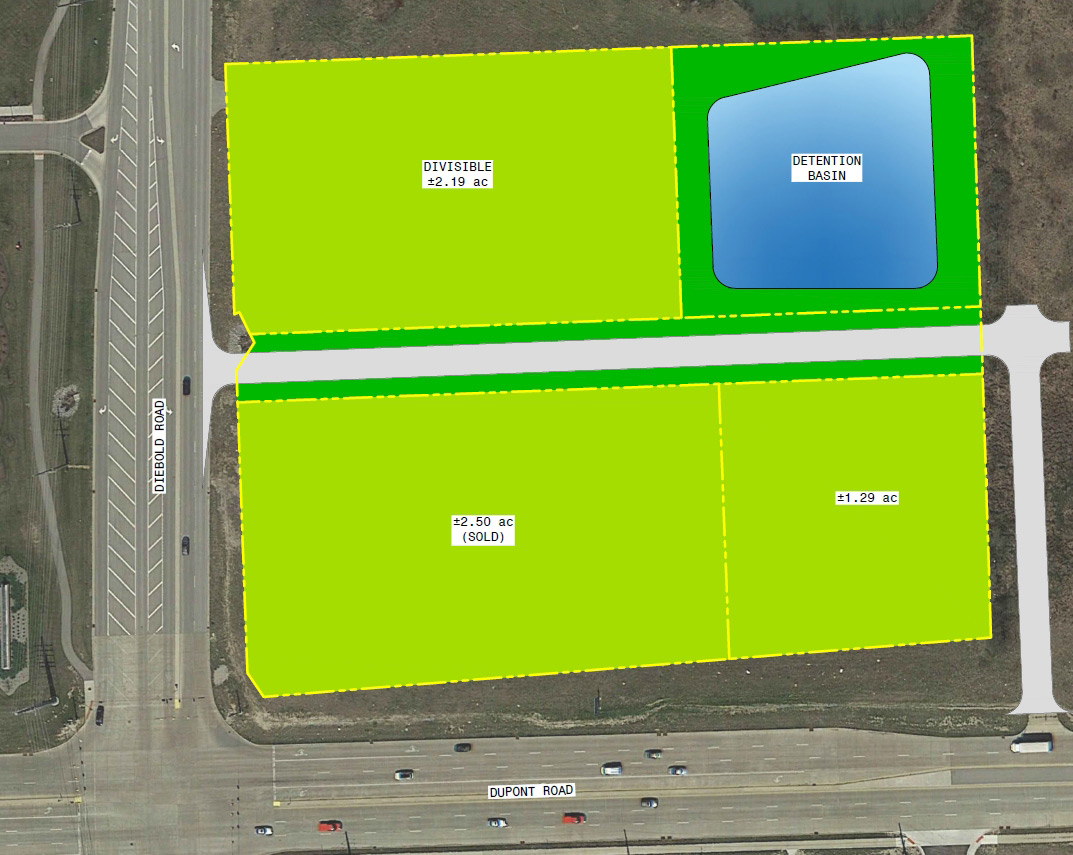 Dupont Rd & Diebold Rd
One of our newest projects, Sturges Development Group has been tasked with taking 9 acres of raw undeveloped land, located in a high-growth commercial corridor, through the development process, resolving issues with grading, wetland, access, stormwater retention, zoning, site engineering and design, to create the most marketable site to maximize the land's value.
Marketing Package (PDF)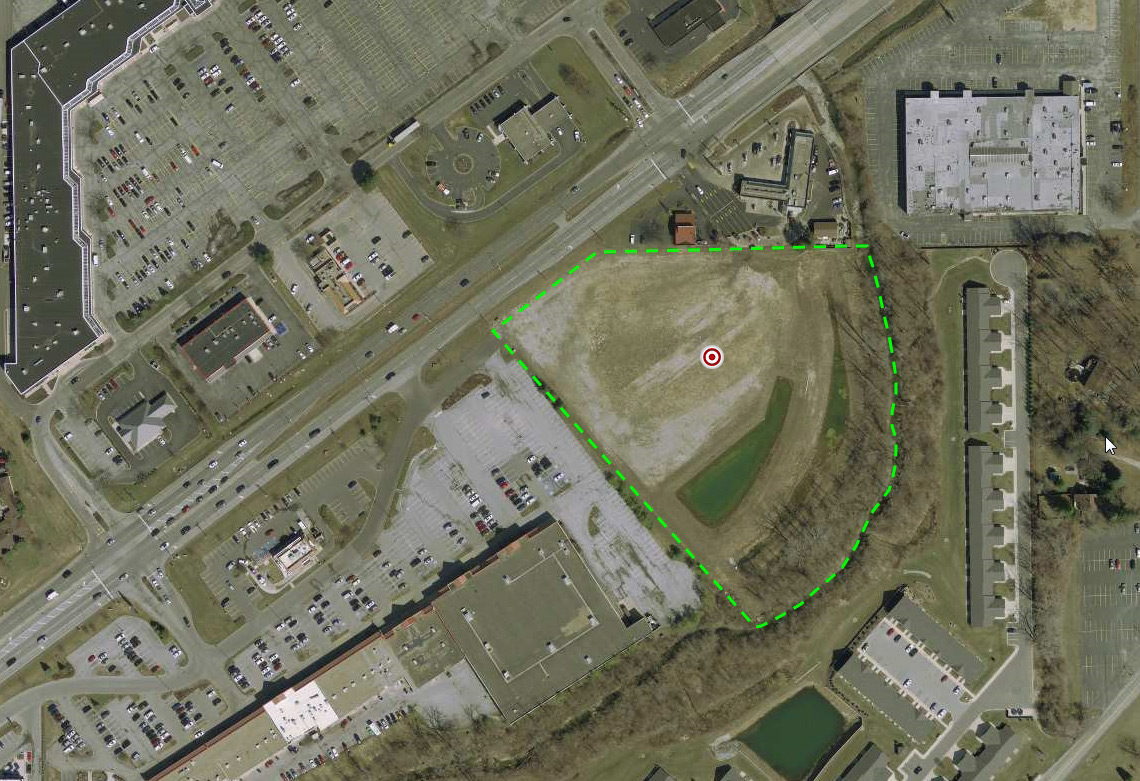 West Jefferson site
6309 W Jefferson Blvd next to Mike's Carwash
This challenging 6.5-acre site required solutions for issues with floodplain, topsoil, compaction, retention and stormwater, and bringing utilities to site. By resolving these obstacles, Sturges Development Group was able to turn this site into marketable land.
3.5 acres is currently available as a shovel-ready site ready to build on, perfect for retail, medical, or office.
Marketing Package (PDF)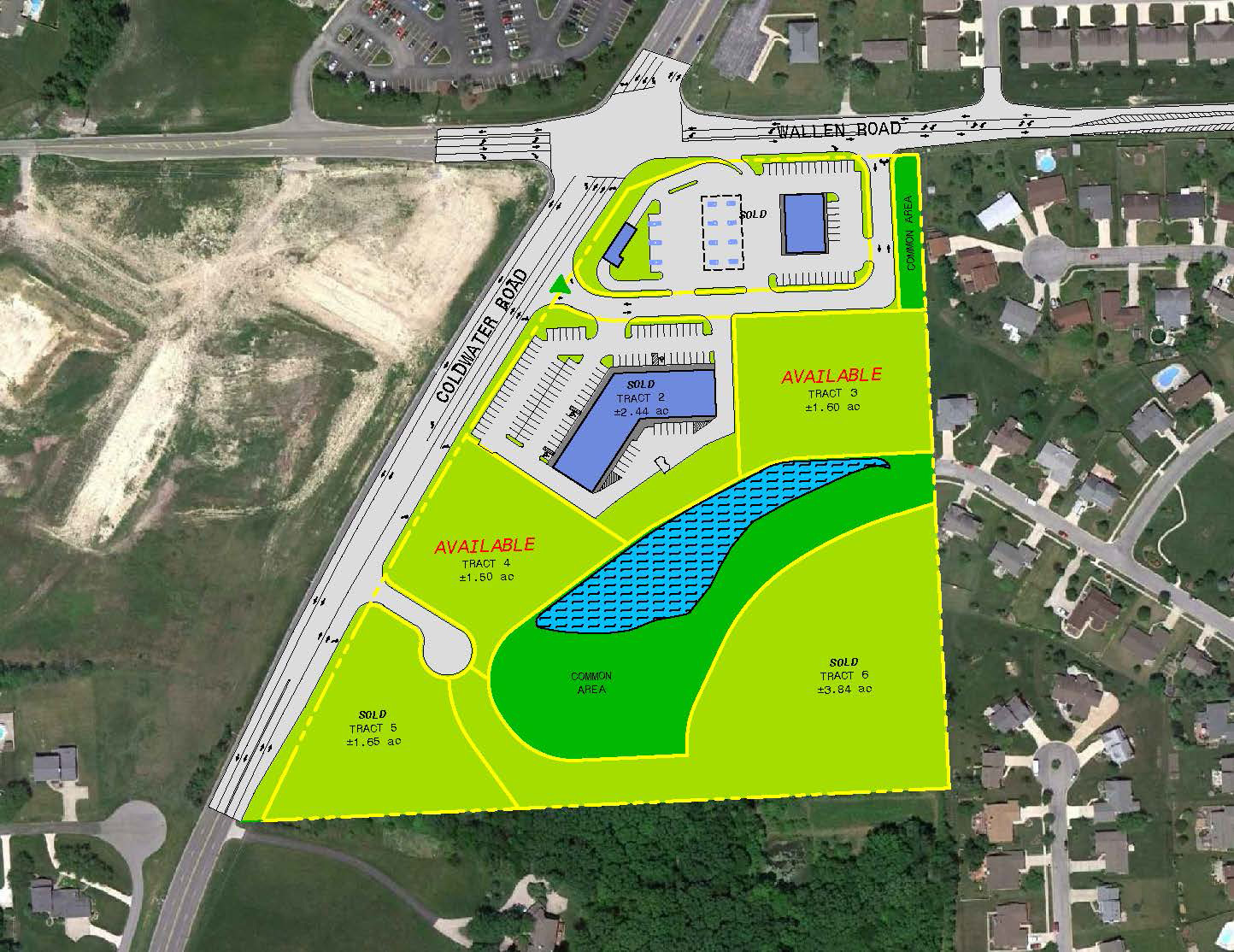 Coldwater Centre
Coldwater Centre is a 40+ acre commercial center developed from raw land by Sturges Development Group. Located in a busy commercial corrdior at the southeast corner of Coldwater and Wallen Road, easily accessible from I-69, most of the parcels have been purchased and built upon.
One competitively-priced ready-to-build site remaining!
Marketing Package (PDF)
Prairie Centre
Prairie Centre is an upcoming mixed-use 300-acre development, created from what is currently raw farmland, located in Southwest Fort Wayne just off Exit 299 of I-69 at Lower Huntington Rd. Visions for this community are single-family, multi-family, hotel, office campus, industrial tech, and retail projects.
Parcels available up to 27 acres in this last undeveloped interstate intersection in Allen County. Multiple zoning options are available, and all utilities to site.
Marketing Package (PDF)
Southtown Centre
Southtown Centre is a successful redevelopment of the former Southtown mall and surrounding area. In a joint venture with the City of Fort Wayne's Department of Redevelopment, Sturges Development Group demolished an entire 113-acre site which included a 1.2million square foot enclosed outdated abandoned mall filled with environmental hazards. By redevleoping this former community eyesore on Fort Wayne's south side, Sturges Development Group was able to attract anchors Walmart and Menards to this project, as well as several outparcel buildings such as Wendy's, AutoZone, and Firestone.
Demand for retail in this area continues to grow. The remaining available parcels range from 1.21 to 9 acres.
Marketing Package (PDF)
Cheshire Development
Delaware, OH
Cheshire is an upcoming mixed-use 45-acre project, created to develop a new Walmart-anchored center, from what is currently raw land near Columbus in Ohio's fastest-growing county.